Covid 19 has caused a catastrophic shakeup across the global economy, and nations are scrambling to pick up the pieces. But the good news is that the crisis is fast-tracking green investments and highlighting sustainability as an essential tool to win the future.
The circular economy is no longer a matter of conjecture, but a front and centre strategy for economic recovery. The uptake of green industry, along with a strong push for innovation, are at the heart of South Africa's latest National Waste Management Strategy 2020 (NWMS).
The benefits could be manifold. The 2020 Strategy could help accelerate the circular economy along with its knock-on environmental benefits, as well as boost the economy through job creation, sustainable development and improved resource use. Says Environment, Forestry and Fisheries Minister Barbara Creecy, "South Africa has also realised that green industries can open up new possibilities for development and assist in creating much needed jobs".
Since 2011 the NWMS has guided policy and steered strategic interventions for South Africa's waste sector. The 2020 amended strategy builds on these successes and lessons learnt over the past nine years, and aims to align with the Sustainable Development Goals (SDGs) of Agenda 2030 adopted by all United Nations (UN) member States. It is also in line with South Africa's National Development Plan (NDP): Vision 2030 that unpacks the country's overall socioeconomic development plans.
NWMS 2.0
The NWMS 2020 strategy will be upheld by three key pillars, says Creecy: waste minimisation; efficient and effective waste services; and compliance monitoring and enforcement.
Here is what the new strategy is doing to strengthen these pillars and "chart the new approach to the management of waste in South Africa":
Empowering the informal sector - The new strategy acknowledges the value of the waste pickers and informal sector in the circular economy. Through skills development training, government assistance and policy reform, the NWMS seeks to "ensure that waste pickers are fully integrated in the recycling value chain."
Promoting the design of products and packaging that reduce waste or encourage reuse, repair and preparation for recycling.
Supporting source-separated recyclables - the new strategy explores ways of increasing participation rates in residential separation at source programmes and creating investor appetites for transporting recyclables to waste processing facilities.
Beyond NWMS: other circular investments
Just this year alone, the Department of Environment, Forestry and Fisheries has been looking extensively into ways to initiate extended producer responsibility (EPR) for various products, including paper and packaging, electrical and electronic equipment, and lighting. The goal here is to majorly increase South Africa's diversion of waste from landfilling, boost the recycling value chain, and hit our new NWMS recycling targets.
The department is also making serious strides towards circularity in the improved design of plastic carrier bags. Says Creecy, "We have received extensive comments on the amendments of the plastic carrier bags regulations, and I am pleased that we are moving in the right direction to prevent and manage plastic pollution."
Creecy is also hoping to bolster the recycling sector by lifting regulatory exclusions on materials that have until now been seen as simply waste. More materials are being recognised for their innate recyclable value. By removing the roadblock of attaining a waste licence to trade these materials, Creecy says they inevitably unblock obstacles and promote the full implementation of the waste management hierarchy. As such, the department has approved 48 applications for the beneficial use of such materials.
What's more, she points out, "[the department] is continuing with the implementation of programmes such as the Recycling Enterprise Support Programme, and Chemicals and Waste Economy Phakisa initiatives that contribute to job creation while diverting waste away from landfill."
So what does this mean for my business?
As the government makes greater strides to invest in the circular economy, so too should your business. It's not only a matter of ecological consciousness, but a sound strategy to sustain your financial investments and future proof your footprint in the market. By partnering with a circular-focused service provider like WastePlan, you ensure that your company is aligned to the greater agenda for sustainable, green development within the country.
And you can save. How?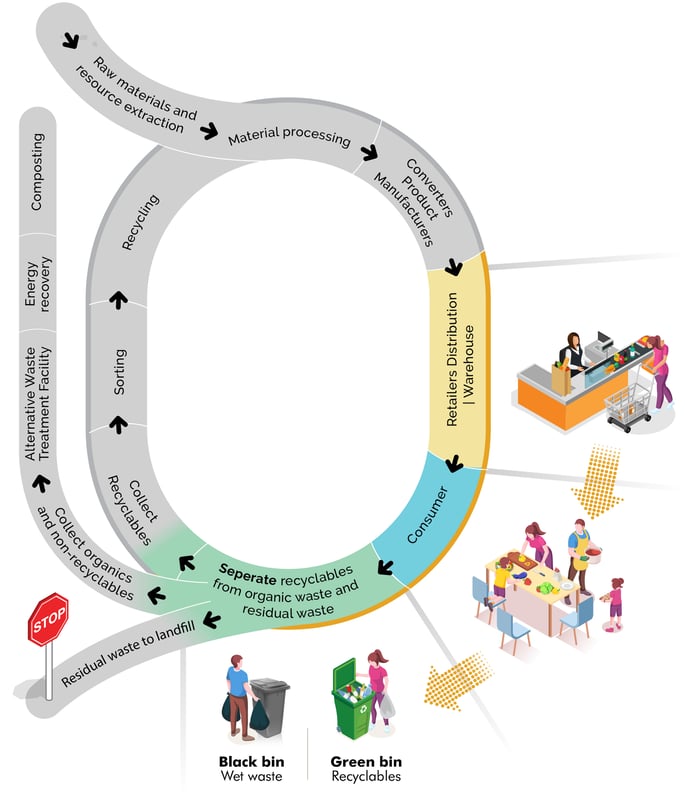 For just some of the benefits, let's review our latest blog:
For every kilogram of waste recycled, WastePlan pays you a rebate. The more you recycle, the more money you are rewarded. It's as easy as that.
You save costs on overheads
The less waste to landfill, the less you pay on transporting that waste. Reduced greenhouse gas emissions and other carbon outputs, along with less waste disposal, means less taxation and punitive fees.
You know where your waste (and money) is going
A streamlined reporting system will help your company to track your waste, water and energy, and to interrogate the way you make, define and dispose of waste. With an accountable system in place, your business activities can be optimised to ensure your footprint gets lighter while your bottom line grows.
Food waste is the primary contributor to our landfills' greenhouse gases, with a potency 28 times that of carbon dioxide. Food waste also accounts for more or less one-third of all waste. By working with a networked waste provider, you can divert your organics to composters, anaerobic digesters or protein manufacturers that will convert your food into valuable products and materials. The benefit to you: less waste, reduced overheads, bigger savings.
There are a lot of ways you can cut out the excess in your business expenses. Getting rid of single use packaging, for example, can save your company millions. Rather trade in disposables for re-usables where you can. Recognise what's not needed in your packaging, and then quantify the incentivising costs you'll save when eliminating them from your production cycles.
You open doors to new potential markets
There are a plethora of emerging innovations within the circular economy, currently pushing sustainable solutions to market. New technologies are on the rise, in which companies can invest their waste and expect a return on investment. By partnering with the right waste service provider, you can capitalise on these initiatives and enjoy the potential opening of a fresh, new income stream.
Additionally you put yourself on the winning side of legislation. With stricter legislations rolling out in the upcoming year, it's wise to be one step ahead and minimise your footprint, so that you avoid the added slap to your budget.
And what if I want to start a business? Is there room for one more?
The potential opportunity to establish a recycling business exists for enthusiastic people who would like to become a part of the growing "green economy" in South Africa. Look out for an upcoming blog that will provide some guidance to those persons who wish to be involved in a business that positively contributes to the varied needs of our society.
National governments are taking time to rethink and reimagine the waste economy, and South Africa proudly is one of them. As businesses align with the greater agenda of "closing the loop" in our country on waste, they will inevitably build the kind of resilience, effectiveness and consciousness that is needed to sustain the future.
Interested to know more? Set up a consultation with a member of our professional team. Take the Gap Analysis below.