The South African waste management landscape is in constant shift. Regulations are tightening, and legislation on national and provincial levels is changing as we speak, to quicken the adoption of the circular economy. It's important that organisations make this shift to sustainable business in order to save money, build resilience and safeguard their future footprint.
The circular economy is replete with innovative opportunities and ways to grow your bottom line. But business leaders don't necessarily understand how they stand to gain from circular investments in the short and long term. The temptation in this current economic climate is to simply hold the line, patch the operational holes, and just keep minimising operational expenses. But for organisations to move confidently in today's tumultuous economy, they will have to take bold steps away from the traditional "out of sight, out of mind" approach and adopt a more sustainable approach.
This article helps to illustrate the circular economy model: how it works, where you pay, and how you stand to gain from a sustainable waste management strategy.
The traditional model: out of sight, out of mind
Historically waste management was part of the linear economy. In this model value was created by making and selling products, and waste was what was left over when all value had been extracted. Waste had no inherent value; it simply needed to be removed and disposed at the local landfill.
The linear economy: the high price we pay
In a linear-based waste management approach, companies pay a hefty sum for the collection, transportation and disposal of every ton of waste that goes to landfill. Various legislations, such as the Carbon Tax and NEM Waste Act, are tightening their restrictions and adding heavier slaps to the corporate wrist through increased disposal tariffs and levies when it comes to carbon emissions and landfill usage. Other costs, such as the cost of mismanagement or poor waste tracking, can be more hidden but are equally significant. In the absence of efficient, accountable resource management, potential value is unrealised and overheads stay high. If the 'make-take-dispose' organisational approach continues, the costs of moving all this waste will eventually become unbearable for businesses and society at large.

The circular economy: unlocking value
But in the circular economy, value is locked up in every stage of the product's life cycle. Waste is not necessarily waste; it holds significant potential to be transformed and re-purposed for further use. Companies can cut significant costs and make money by diverting and minimising their waste, and redirecting their waste streams towards sustainable, value-add initiatives.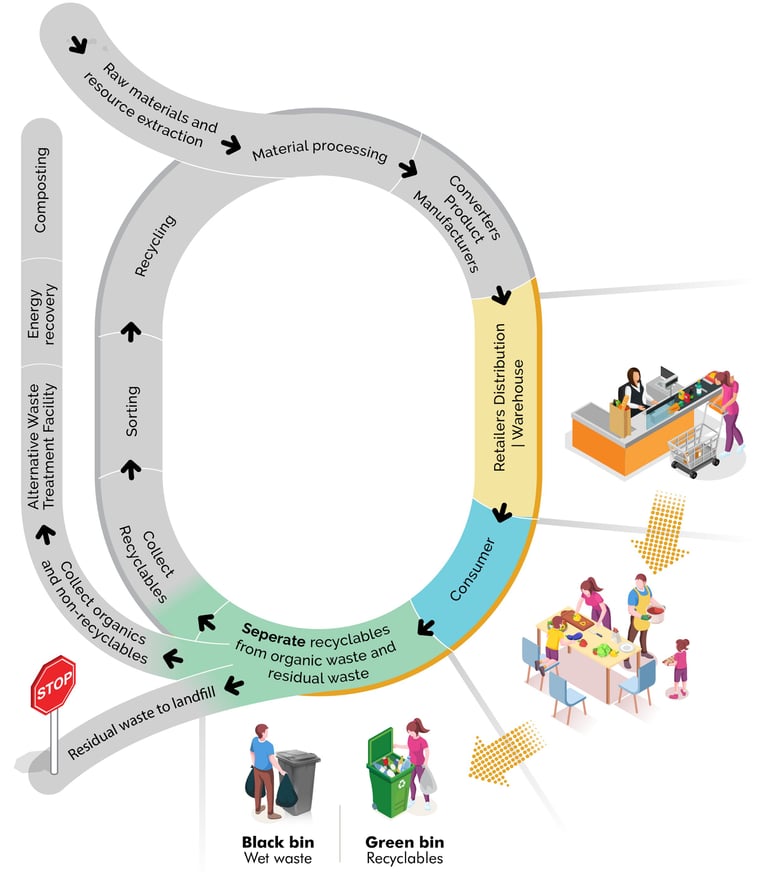 So what do you stand to gain from a sustainable waste management strategy? Take a look below at some key insights:
You get paid to recycle
For every kilogram of waste recycled, WastePlan pays you a rebate. The more you recycle, the more money you are rewarded. It's as easy as that.
You save costs on overheads
The less waste to landfill, the less you pay on transporting that waste. Reduced greenhouse gas emissions and other carbon outputs, along with less waste disposal, means less taxation and punitive fees.
You know where your waste (and money) is going
A streamlined reporting system will help your company to track your waste, water and energy, and to interrogate the way you make, define and dispose of waste. With an accountable system in place, your business activities can be optimised to ensure your footprint gets lighter while your bottom line grows.
You reduce your organics
Food waste is the primary contributor to our landfills' greenhouse gases, with a potency 28 times that of carbon dioxide. Food waste also accounts for more or less one-third of all waste. By working with a networked waste provider, you can divert your organics to composters, anaerobic digesters or protein manufacturers that will convert your food into valuable products and materials. The benefit to you: less waste, reduced overheads, bigger savings.
You eliminate the excess
There are a lot of ways you can cut out the excess in your business expenses. Getting rid of single use packaging, for example, can save your company millions. Rather trade in disposables for reusables where you can. Recognise what's not needed in your packaging, and then quantify the incentivising costs you'll save when eliminating them from your production cycles.
You open doors to new potential markets
There are a plethora of emerging innovations within the circular economy, currently pushing sustainable solutions to market. New technologies are on the rise, in which companies can invest their waste and expect a return on investment. By partnering with the right waste service provider, you can capitalise on these initiatives and enjoy the potential opening of a fresh, new income stream.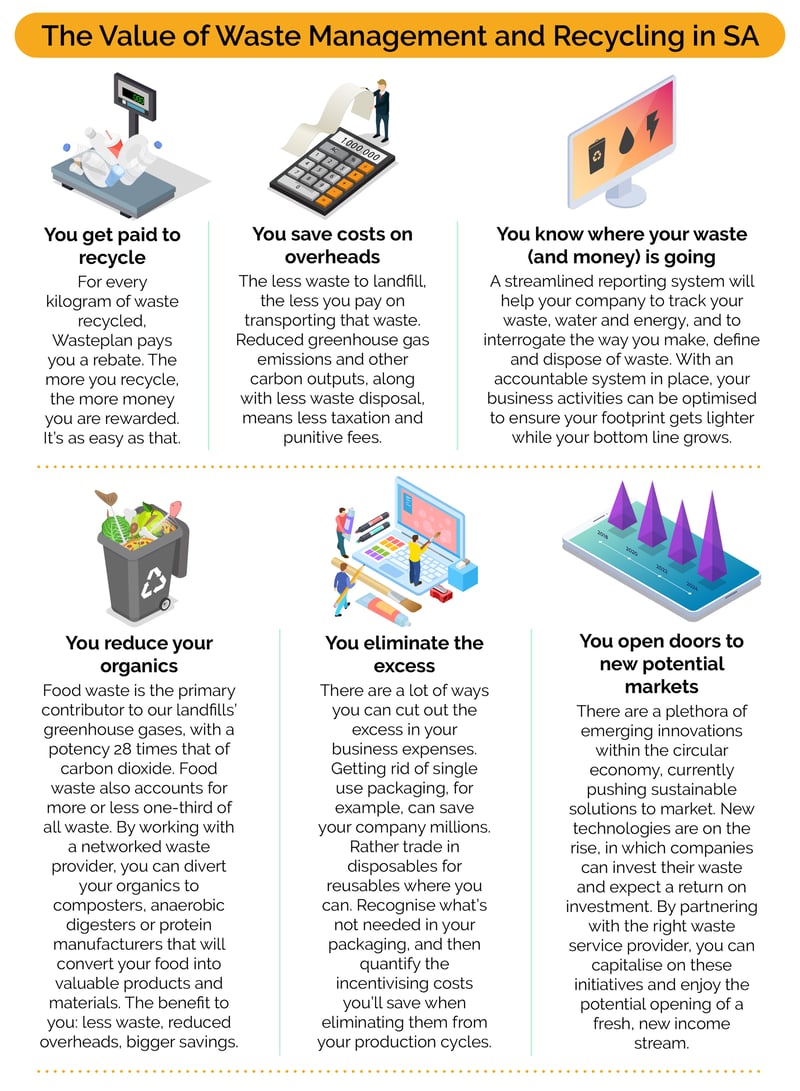 In order to properly understand and manage your waste, we recommend speaking to one of our experienced consultants or else taking a non-obligatory GAP Analysis to see how you could benefit from a waste management solution.